Harnessing The Energy Of The Sun
Flexible, Portable, Powerful
Merlin's Voodoo Solar Tracking Arrays Deliver Efficient Power To Recharge
Your Batteries And Emergency Systems Wherever You Are
For military solar, off-the-grid power or disaster-recovery applications, Merlin's portable, lightweight
arrays allow 100% utilization of the rated capacity of solar photovoltaic (PV) panels. Rotary tracking
allows the array to maintain the optimal solar angle throughout the day, capturing solar energy up to
45% more efficiently than fixed, non-tracking arrays.
Voodoo is self-powered, operating autonomously, with all control functions performed internally.
Compact size makes Voodoo ideal for set up in locations at the far end of logistics trails, in
battlefields and mobile rescue operations such as medical clinics and triage centers. Use our
systems to recharge the batteries in cars and trucks, night-vision goggles, walkie-talkies, and
computers.
Our 600 watt (DC) product is scalable, attack and fault tolerant. It operates silently and without fuel.
Multiple rotary units can be assembled and networked together as an intelligent nanogrid/microgrid
solar power solution meeting larger, more fluid power requirements. DC to AC power inverters allow
you to collect the sun by day and operate field equipment and computers overnight.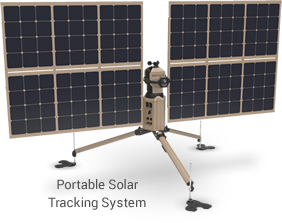 To view our Voodoo Solar Tracker
animation. Click Here

Our Solar Panel Tracking Solutions Provide:

Five minute set-up and tear-down: Our lightweight arrays can be transported on top of any standard military or commercial vehicle.

Robotic, silent, and fuel-less: Voodoo operation is turnkey, requiring no special tools, personnel, or engineering design or modification.

Multiple types of photovoltaic (PV) panels: Our tracking systems offer best–in-class PV technology. Coupled with our rotary tracking that maintains optimal solar angle from early morning to sundown, Voodoo delivers maximum energy density in a transportable package.

Weatherproof operation: Wind sensors "park" the rotary tracking unit, adjusting panels to prevent damage in gusty conditions.

Unattended operation: System operates in automatic "wake-up" mode.

Cost-effectiveness: Merlin's tracking arrays provide the maximum ROI by capturing the most solar energy. This means a quick payback period for your purchase.

Intermodal operation: Air deployable/HMMWV transportable.