Dead Battery Protection
Preventing The Battery Death Spiral
Draining a battery more than halfway begins to cause internal damage such as sulfur build-up and degradation of cell plate materials. This damage effectively reduces the capacity of your battery, making it more likely you will over-discharge your battery again in the future. The battery death spiral of damaging discharges and reduced capacity explains the rapid deterioration of battery performance that users commonly experience.
Dead batteries are a top reason why people call the AAA, the Coast Guard, and other rescue services. In fact, a dead battery is as common as running out of fuel. The reasons: an increased electrical load, battery age, and corrosion, along with users not starting engines to recharge early enough. One full discharge can be enough to warrant battery replacement. Add towing fees, damage, or loss of perishable goods, and it's easy to see how dead batteries affect your safety and bottom line.
Our dead battery solutions keep your batteries healthier, longer.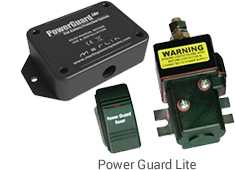 Products Include:
Power Guard Lite
Product Features:

Low-cost dead battery protection for a single battery bank

Manual battery reset switch

User-adjustable disconnect level and timer

125A-rated continuous current contactor, 12V or 24V

Protection for primary engine or auxiliary batteries

Fully sealed IP66 contactor for under-hood installation and ignition protection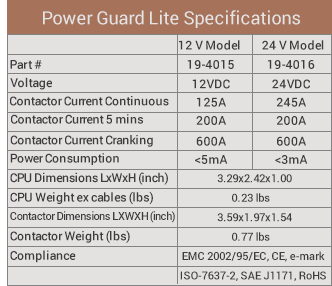 Power Guard Pro
Product Features:

Battery switching and dead battery protection

Protection for one or two independent battery banks

200A sealed contactor for under-hood and ignition protected installations

12/24V or mixed-voltage systems

Fully independent settings for each battery

User-friendly, programmable Merlin PC software for data logging and diagnostics