INTELLIGENT SPLIT CHARGING
Control The Balance Of Power
Split charging enables one charging source (e.g. alternator) to charge multiple battery banks yet allows each bank to discharge independently. Merlin's split charging solutions distinguish themselves with:
EFFICIENCY: Merlin is energy conscious unlike diode-based battery isolators that contain large heat sinks to shed power intended for batteries.
INTELLIGENT CHARGING: Merlin implements best practice battery combining with dual voltage sensing and intelligent algorithms. Diode-based battery isolators introduce a voltage drop so batteries are not charged at the correct voltage unless an external regulator is used. If an external regulator is used, the battery bank that is externally sensed by the regulator will charge correctly while the other may be over-charged or undercharged.
QUALITY: Merlin's contactors are rated for large continuous and cranking currents unlike legacy split charging relays that can melt or even catch fire.
Improper battery charging will damage batteries, degrade performance, and shorten battery life. Ensure battery health and longevity with Merlin.
M-POWER VSR:
Quality Meets Simplicity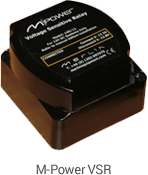 Support additional batteries with minimal installation


Fully automatic operation, 12V or 24V

Priority charge engine start batteries

Relay chatter is mitigated with a delay

Bi-directional relay directs power from any charge source to any connected battery bank

Fully sealed and ignition protected contactor for marine and under the hood installation

May use as a voltage sensitive switch for loads that should operate only during charging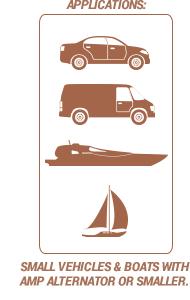 SMARTBANK LITE:
Priority Charging And Power Sharing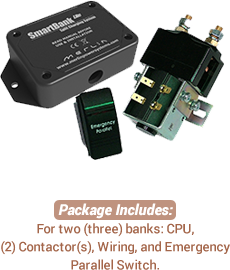 Intelligent split charging for one or two battery banks, 12V or 24V


Adjustable connect voltage, disconnect voltage, and timing delay suits any application

Emergency parallel batteries to power emergency communications or engine start

Power efficient contactor rated for 125A continuous and 600A cranking current

Priority charge starting batteries and share power between banks

Easy install, bi-directional, chatter mitigation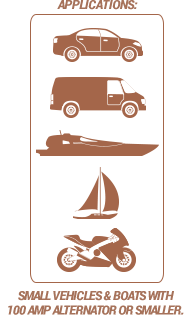 MULTIPLE BATTERY BANKS: SmartBank Lite is designed for two battery bank (single contactor) installations; a second contactor can be added that mimics the first for charging a third battery bank.
SMARTBANK PRO:
Advanced Split Charging System For Professional Users
The most advanced standalone split charging system available!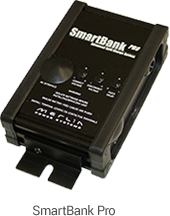 Independently configurable for two or three battery banks


Adjustable connect voltages, disconnect voltages, and timing delays suit any application

Adjustable manually or via Windows software

Generous eight inputs/outputs for voltage alarms, interlocks, additional emergency parallel switches (for multiple locations), etc.

Power efficient contactors rated for 200A continuous and 725A cranking current

High voltage disconnect protects expensive battery banks from regulator failure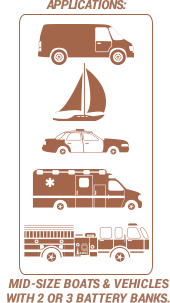 SMARTGAUGE INTERFACE: Plug-and-play with SmartGauge for integrated battery monitoring. SmartGauge also acts as a configuration and display panel for SmartBank Pro; emergency parallel directly from SmartGauge panel.
POWERGUARD INTERFACE: Automatically reset PowerGuard Lite or PowerGuard Pro dead battery protection.
OPTIONAL SOFTWARE: Access diagnostics and datalogging; understand, program, and control power balance across your system with detailed voltage data.
Call Merlin for your Solution!