BATTERY MANAGEMENT
The Power of Teamwork
Merlin's Battery Management products integrate two or more of its core solutions — dead-battery protection, split charging, and battery monitoring — into one unit. Combining products not only reduces costs, but it also creates synergies that increase capability.
Don't let dead and improperly charged batteries damage the performance and lifespan of your good batteries.
SMARTBANK ADVANCED:
Combined Split Charging & Battery Monitoring
Intelligent split charging combined with the most accurate battery monitor commercially available!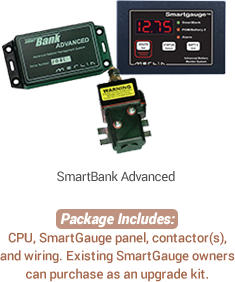 Split charging automatically compensates for aging battery conditions.


Designed for 2 + 1 battery banks, 12V or 24V systems.

Alarm contact for accurate control of generator start and stop, load shedding and external alarms.

Power sharing, priority charging, bi-directional charging, high-voltage disconnect, and emergency paralleling.

Power-efficient contactors rated 200A continuous and 725A cranking current.

Fully sealed and ignition protected contactor(s) for marine and under-the-hood installation.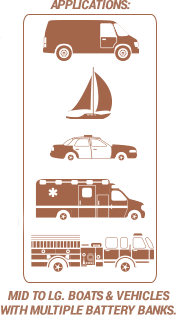 MULTIPLE BATTERY BANKS: SmartBank Advanced is designed for two-battery bank (single contactor) installations; a second contactor can be added that mimics the first for charging a third battery bank.
SMARTGAUGE: Integrated battery monitoring and configuration display panel for split charging system; emergency parallel directly from panel.
SMARTGUARD COMBI:
Complete Two-Bank Solution
Combined PowerGuard Pro and SmartBank Pro with optional SmartGauge!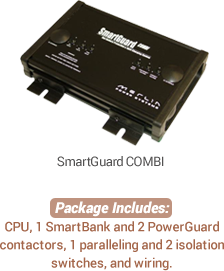 Advanced dead-battery protection and intelligent split charging for two battery banks.


Generous eight input/outputs for alarms, interlocks, generator start and stop, ignition feeds and emergency power disconnect.

Bi-directional charging, power sharing, priority charging, emergency paralleling, battery isolation, and high-voltage disconnect.

Reset dead-battery protection when charging begins.

Efficient, fully sealed, ignition-protected, IP66 contactors rated 200A continuous, 725A cranking current.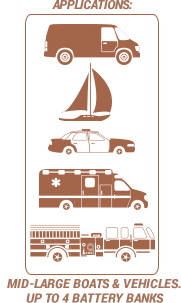 FLEXIBLE: Adjustable voltage and timer settings support different battery chemistries, starting or deep cycle batteries, and large transient loads (intermittent large power draws that should not activate battery protection).
SMARTGAUGE INTERFACE: Plug'n'play with SmartGauge (not included) battery monitoring; display State of Charge for one bank, voltage for two banks; emergency parallel and configure split charging directly from panel.
OPTIONAL SOFTWARE: Manually configure basic settings without a computer; configure fully independent thresholds and access and diagnostic packages with Windows software; understand and control power balance across your system with detailed voltage data.
POWERBANK:
Complete Four-Bank Solution
The most advanced commercial Battery Management System available!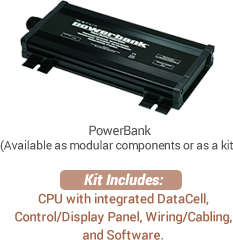 Advanced dead-battery protection and intelligent split charging for up to four battery banks.


Integrated DataCell Battery Monitor or plug'n'play with stand-alone DataCell via MerlinNet.

Generous eight input/outputs for alarms, interlocks, generator start and stop, ignition feeds, emergency power disconnect, etc.

Support additional display panels and add input/outputs with MerlinNet Expansion Modules.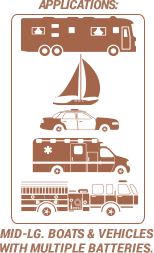 ALL THE FEATURES OF SMARTGUARD FOR UP TO 4 BATTERY BANKS AND…
UPGRADED MONITORING: DataCell compatibility provides State of Charge and voltage for every battery bank.
MODULAR AND SCALABLE: Scale PowerGuard with MerlinNet Expansion modules for unlimited number of customized user input switches and display panels; additional 16 inputs/outputs per module.
OPTIONAL DISPLAY PANEL: Plug'n'play control/display panel displays voltage, State of Charge, and alarm status; LED or LCD; programmable buttons for battery switching, isolation, emergency parallel, etc.
Call to speak to one of our specialists today!