Python Fuel Cell Generator
Tactical Power Solutions
Merlin's Python fuel cell generator provides a tactical high-density auxiliary power solution for today's 21st-century military mobility platforms and off-grid commercial needs. The Python product line provides virtually soundless, high-efficiency power generation for off-grid telecommunications operations, oil and gas field installations, and remote generation applications.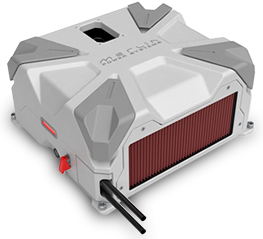 Python Features:

Modular and scalable to meet power requirements. Ample power, for bulk charging of on-board or stationary battery banks


Solid oxide fuel technology that runs on readily
available tactical fuels: Diesel (D2), JP5/JP8,
Gasoline, Propane, and other hydro-carbon fuels


Four times greater efficiency than standard
internal combustion engine generators for
higher energy density and reduced SWAP
(size, weight, and power)


Unlimited thermal cycling (including on/off
cycling and load following) without damage
to the fuel cell.


COTS, GOTS, and Non-developmental


Meets military standards
Environmental Standard MIL-STD-810G
EMC standard MIL-STD-461F
Electrical Power MIL-STD-1275D


Operates "nearly silently"(less than 45dB
at 1 foot), has minimal thermal
signature (less than 2°F over ambient),
and built for mass production


No NOx or SOx emissions and reduced carbon footprint compared to internal combustion generators. The only emissions are water vapor and CO2. Remote management capability. Python fuel cell generators can be combined with Merlin's Vehicle Battery Management System (VBMS), a fully programmable, networked power system that can be integrated into any combat vehicle. A non-military version of this capability is also available for our commercial customers.


Design that performs under the most
severe weather and battle conditions