Sunny Side Up!
Harvest energy throughout the day and improve solar efficiency with Merlin's Voodoo Solar Tracker.
Unlike fixed arrays that collect only a portion of the sun's energy when their photovoltaic (PV) panels are off axis, Merlin's dual-axis arrays adjust panel angles throughout the day, capturing the maximum solar energy even in early-morning and late-afternoon hours.
Additionally, Voodoo is are portable and lightweight. Set up and tear down in five minutes' time. These 600W DC units generate up to 40% more energy than fixed arrays. They can be wired in parallel or series to meet additional power requirements, and are suitable as a battery charger (in a hybrid system, for example).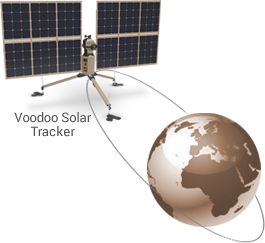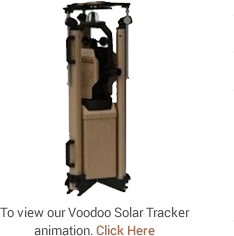 Our solar panel tracking
solutions offer:

Patented dual-axis rotary tracking technology.


Self-sustaining, renewable power generation.

Wind sensors that automatically dock panels to prevent damage.

Portability and quick assembly to meet requirements for military, disaster sites, and other mission-critical applications.

Support of multiple photovoltaic (PV) panel brands to provide maximum power density in a transportable package.
Voodoo-Power Generator 600W Product Specifications:

Photovoltaic Array DC Output Power.

Available in 12 VDC or 24 VDC to meet customer requirements.

COTS, GOTS, and Non-developmental

Array Width: 81" (6.75"); Array Height @ Vertical Parked Position: 72.90".

At < 150 lbs. FedEx Shippable in one package[/special-box][/one_half_last]
Speak to one of our specialists today!