Ambulance
In any emergency, paramedics and EMTs rely on their expertise and medical equipment to ensure that patients have the best chance for survival.
Ambulances today sustain large electrical loads from computers, defibrillators, blood warmers, refrigeration, brake retarders, and monitors, along with standard equipment that includes sirens, flashers, radio, and battery-operated gurneys. In the "golden hour" to save a patient's life, there is no time for batteries to fail or recharge at the station.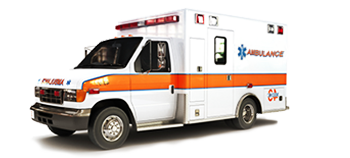 Merlin's solutions ensure EMS vehicle power no matter how hectic, far away, or how long the emergency call.
AMERICAN IDLE: Comply with strict US anti-idling laws. For less than the cost of a battery, Merlin's battery monitoring provides always-accurate State of Charge. Know when you can operate on battery power and when you need to start the engine.
LEAD THE CHARGE: Merlin's battery monitoring can trigger audio or visual alarms to know when in-station battery chargers should initiate or terminate; or integrate with auto-eject plugs to automate the process. Overcharging at the station decreases battery life and degrades performance.
DEPENDABILITY: Properly charging batteries keeps them healthier longer. Merlin's intelligent Split Charging optimizes the power balance across vehicle electrical systems. Power is directed where it is needed most, avoiding damaging overcharging and excessive discharging.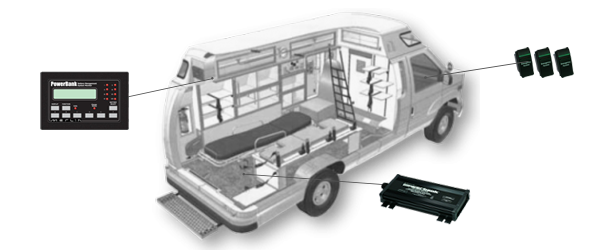 Consider Merlin's many product solutions:

SmartGuard Combi: Integrated dead-
battery protection, intelligent split
charging, and battery switching, isolation
and paralleling for two battery banks.
Optional plug'n'play SmartGauge battery
monitoring.

Powerbank: Integrated dead-battery
protection, intelligent split charging, and
battery switching, isolation and paralleling
for up to four battery banks. Plug'n'play
compatible with Datacell battery
monitoring via MerlinNet.

Stand-alone Dead-Battery Protection:
PowerGuard Lite for a single battery bank.
PowerGuard Pro for up to two battery banks
with battery switching and isolation.

Stand-alone Battery Monitoring:
SmartGauge for monitoring starting
battery and one auxiliary bank. Datacell for
up to four battery banks.


Stand-alone Split Charging:Includes
battery paralleling and power sharing.
SmartBank Lite for 2+1 battery banks.
SmartBank Pro for up to three banks includes
high-voltage disconnect.

And just about any conceivable
combination of the above.

Merlin Is Your EMS Power-Management Partner
Ambulances today are costly, life-saving vehicles that draw big power loads. Call Merlin to find out how you can maximize the power performance in your ambulance fleet.