Power Boats
Just as common to boaters as the perpetual desire to acquire a slightly larger boat is another nagging affliction: the incessant need for more power. In addition to operational loads such as running lights and communications, boat owners wish to power electrical amenities from refrigerators to smartphones. Extracting more power from your existing electrical system requires efficient and intelligent power management.

DEAD-BATTERY PROTECTION: Improves battery performance and extends battery life by preventing damage caused by excessively discharging batteries. Eliminate arriving to a dead starter battery.
INTELLIGENT SPLIT CHARGING: Increases efficiency by coordinating your charging system (e.g, alternator), battery storage, and electrical loads. Direct power where it's needed most.
ALWAYS-ACCURATE BATTERY MONITORING:  Informs crew members to make intelligent decisions. Know when your batteries need charging and when they are full.
AUTOMATION: Automate your system with integrated battery monitoring, split charging, and dead-battery protection; automatically tunes your system as batteries age.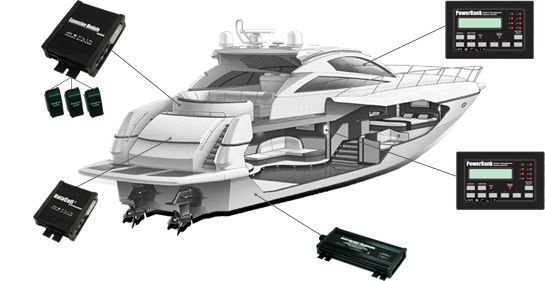 Merlin's solutions maximize the power from your existing system while protecting batteries. The result is better reliability, more consistent performance, and longer battery life. Adding a larger alternator and installing more batteries is ineffective without proper power management.
Merlin is an ideal solution for:

Twin Engine Installs: Protect your starting
batteries while sharing power between
banks; add a deep cycle battery bank for
auxiliaries, and charge any bank from either
engine.

Sport Fishing: Have confidence in your
power supply as you support GPS, chart
plotters, autopilot, radar, fish-finders, depth
sounders, and more.

Call Merlin to find extra power within your existing electrical system.