Surveillance
Merlin Power Systems is implementing its military solutions on the frontlines at home. Our staff has more than 20 years of experience deploying solutions for Special Forces and the larger military, including C4ISR systems (command, control, communications, computers, intelligence, surveillance, and reconnaissance).
Merlin understands how to support the sophisticated electronics packages of covert operations. The unique power requirements of law-enforcement units, specialized-vehicle electronics, and personal-security applications are integrated into our product design.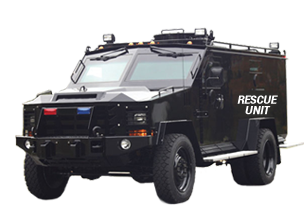 SEE NO EVIL, HEAR NO EVIL: A few hours of additional audio or video can mean the difference between operational success or failure. Merlin's intelligent Split Charging maximizes the power available from charging sources and batteries. It simultaneously protects batteries for repeatable, reliable performance on the next operation.
HUSH: Clandestine operations often require periods of silence without running engines or generators. Give agents confidence in their remaining power available with Merlin's always-accurate battery monitoring.
WASTE NOT, WANT NOT: All of Merlin's products are designed to have minimal parasitic load. For long-duration, battery-powered operations, every milliamp counts. For instance, the SmartGauge battery monitor would take over a year to discharge a 100Ah battery to half its capacity.
SENSE AND SENSIBILITY: Remotely located, autonomous, or mobile sensor packages require ultra-efficient power management. Maximize charge sources, battery power, and efficiency with capabilities such as power sharing, load shedding, and charge prioritization.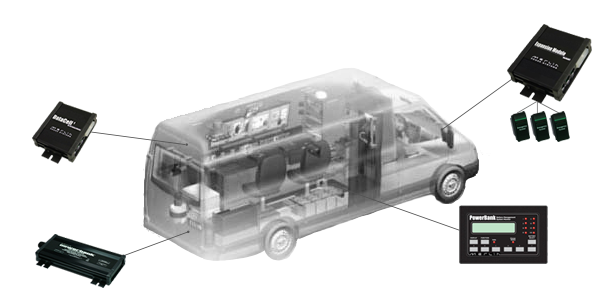 Merlin can support any number of battery banks with Dead Battery Protection, Split Charging, and Battery Monitoring solutions:

SmartGuard Combi: Integrated dead-
battery protection, intelligent split
charging, and battery switching, isolation
and paralleling for two battery banks.
Optional plug'n'play SmartGauge
battery monitoring.

PowerBank: Integrated Dead Battery
Protection, intelligent Split Charging, and
Battery Switching, Isolation and Paralleling
for up to 4 battery banks. Datacell Battery
Monitoring can be integrated into unit or
added as a plug-and-play unit.

Stand-alone Dead Battery Protection:
PowerGuard Lite for a single battery bank.
PowerGuard Pro for up to two battery banks
with battery switching and isolation.

Stand-alone Battery Monitoring:
SmartGauge for monitoring starting
battery and one auxiliary bank. Datacell for
up to four battery banks.


Stand-alone Split Charging:Includes
battery paralleling and power sharing.
SmartBank Lite for 2+1 battery banks.
SmartBank Pro for up to three banks includes
high-voltage disconnect.

And just about any conceivable
combination of the above.