Recreational Vehicle Battery Management
Nothing Is More Valuable Than Your Time
And when you have time to relax, nothing is more frustrating than unnecessary power problems.
Whether you discover a dead starter battery or new auxiliaries that have lost their spark, why waste your energy worrying about power?
For your line of recreational vehicles – powerboats, sailboats, yachts, and RVs – Merlin battery management and power-monitoring controllers deliver the power you need.
Solving Recreational Power Problems
Your electrical system needs proper management to perform consistently and efficiently. Merlin offers an entire solution for your electrical system with modular, scalable components that are integrated by design.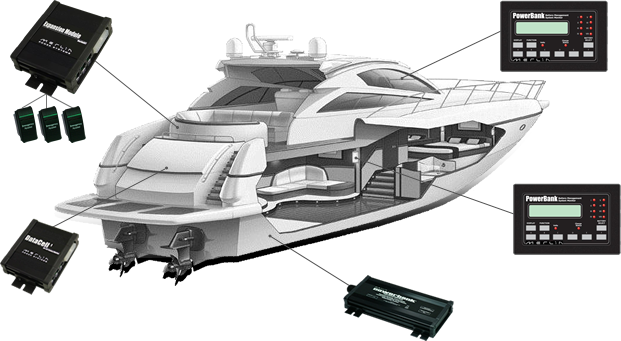 Battery Monitors, Intelligent Split Chargers, And Dead Battery Protection Communicate
Over MerlinNET To Maximize The Power From Your Electrical System:
Battery Monitoring. Merlin's battery
monitors report the State of Charge (SoC)
and State of Health (SoH) of your batteries
- the heart of your electrical system.
Accurate SoC AND SoH monitoring decisions
about which batteries to replenish and
which to deplete. Merlin has the industry's
most accurate monitors to keep your
electrical system running optimally.

Dead Battery Protection. Merlin's dead
battery protection not only prevents dead
starter batteries but also prevents the
battery damage that leads to poor
performance.

Intelligent Split Charging. Have multiple
loads that need power from multiple
battery banks? Need to direct generator or
alternator power to multiple banks?
Merlin's intelligent split charging solutions
direct power where it is needed most,
even for the most complex systems.

Marine
Cruising. Enjoy all the amenities on board
the way you envisioned. Run your
generator and replace your batteries less
often. Merlin battery monitoring systems
warn you if you are running low on power.

Emergency. Be able to parallel your
batteries in an emergency to jumpstart
from auxiliary batteries and provide
emergency power for communications.

Fishing. Run your GPS, depth finder, fish
finder, chart plotter, and more with
confidence – even while drifting. Squeeze
every ounce of power from your system -
and maximize your time at sea.

RV
Silent Time. Run your generator less often
with an optimized electrical system.
Improved electrical efficiency translates
into increased fuel efficiency – and the
bottom line.

Enjoyment. Refrigerator, television, heat.
Maximize the power from your electrical
system without damaging batteries.

Confidence. Be prepared in even the most
remote locations. Know how much power
you have available at all times. Know your
batteries are protected. Rely on
emergency power for starting and
communications.


Optimizing Your Power Generation Needs
Merlin is your power protection partner. We work closely with you to determine your system's battery requirements, usage, and fail-safe options. We then propose the most favorable power monitoring and management design to meet your needs.